Remote Mounting Stackable Beacons.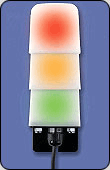 A range of Stackable Beacons is available.
They are typically used where the machine application requires visual indication of control functions from a single location.
The translucent plastic lenses provide all round light visibility and can be programmed to provide either flashing or a steady output. The bright LED's are supplied in a variety of colours as listed below.
105 - 801 High intensity LED stackable beacon kit - Red
105 - 802 High intensity LED stackable beacon kit - Orange
105 - 803 High intensity LED stackable beacon kit - Green
105 - 804 High intensity LED stackable beacon kit - Blue